About Loretta
Loretta Carridan Luchau M.A., L.P.C.C., N.C.C., R.M.T. has over 30 years experience practicing and teaching body-centered therapies, with clients and students of all ages. She has taught in the USA, Europe, and in Asia, and for some years was a faculty member at the Boulder College of Massage Therapy. Her background includes extended study in numerous forms of bodywork and body-centered psychotherapies (Hakomi Integrative Somatics, Integrative Body Psychotherapies, Gestalt, DBT, etc.). She is an Approved Provider for Advanced-Trainings.com's Advanced Myofascial Techniques Certification Program, Loretta holds a B.A. in Transpersonal and Humanistic Psychology from Naropa University in Boulder, CO, and an M.A. in Clinical Counseling from the University of Northern Colorado (UNC).
A Nationally Certified Counselor, her current passion is clinical work in community mental health. Her private office, where she practices bodywork modalities and body-centered counseling, is located in Lafayette, CO. As a relationally oriented, person-centered, psychodynamic behaviorist, she employs psycho-education and mindfulness skills as an important part of therapy.
Loretta has experience working with anxiety, depression, trauma, addictions, psychosis, and personality disorders. Seeing people's lives transform and change course is incredibly rewarding for her. She feels honored to be able to work with others as they heal and move toward a more fulfilling life.
Loretta enjoys mothering, traveling with her family, time with good friends, her sisters, her Co-Housing community, her domestic animals, her garden, being in the outdoors hiking and backpacking, knitting, yoga and other contemplative practices.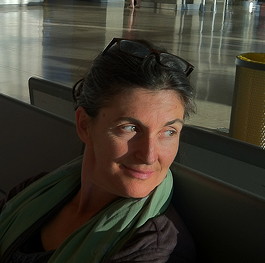 © 2007 Loretta Carridan Luchau. Design by Andreas Viklund | xNavigation software.